Custom Orders
Our custom order experts offer solutions for any budget and we can get almost anything: from lanyards, mugs, clothing, collateral, water bottles, mints, stress balls and much more. Need help with your event logo? Just ask.
If you want to speak with our custom order experts or if you need large quantities, contact our special orders experts by filling out the form below, emailing at customorders@uoftbookstore.com or calling 416-640-7900 x5819.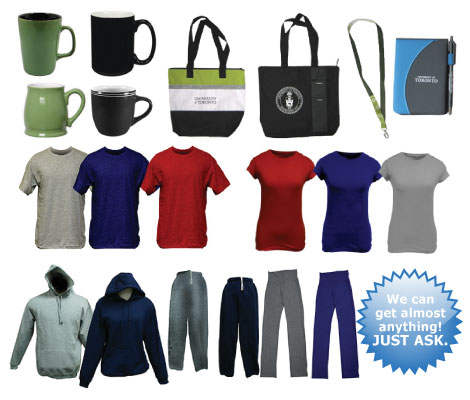 "Massey College has been ordering clothing and gift items for over seven years. The bookstore staff was a huge help at every step of the way...from suggesting product, helping with design and dealing with suppliers to delivering the order in a timely manner and ensuring that the orders were filled to our satisfaction."
"The staff of the Bookstore were very helpful with our custom order. From design and artwork, through production on a short schedule, and even personal attention to the delivery, they were knowledgeable, attentive, and friendly. I was happy we chose the Bookstore over other suppliers."
"I have used the bookstore to purchase swag from T-shirts to water bottles to Sharpies! I got great competitive prices and excellent service."
"The Faculty of Physical Education and Health has worked with the U of T Bookstore on a number of custom orders. Each of them has been unique, but the products and services received have been outstanding. The U of T Bookstore has offered us very competitive pricing, customized services and timely delivery for our projects. It has been a pleasure working with them."